Angela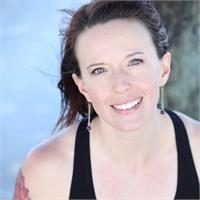 Angela, a 500-hour Yoga Alliance certified teacher, took her first yoga class in 2011. Angela reflects, " I
initially approached yoga as a form of exercise, but I gained so much more than flexibility and strength. I
gained confidence, and became comfortable in my body. The focus on breath and movement led me to
develop inner awareness, and a sense of clarity and peace. Through my yoga practice, I've learned how
to cultivate balance in my life off the mat." Angela's teaching is grounded in her belief that knowledge
of the physical body leads to a deeper understanding of self. A nurse for twenty years, her knowledge of
anatomy and professional experience inform her teaching. Her classes are intelligently sequenced, and
designed to build strength and stability. Through concise alignment cues and compassionate guidance,
Angela seeks to empower students to take charge of their own personal practice. Angela received her
200 and 300-hour certification at Longwave Yoga under the direction of Lexi Hawks and Mary
Glackmeyer. She is currently studying under Annie Carpenter in pursuit of 300-hour certification in
SmartFLOW Yoga.
Angela instructs the following:
Deep Stretch & Release is a yin based practice that allows the active yogi to find balance in the body and mind. Yin yoga is a slow paced, breath centered practice that targets the connective tissues in the body through long, deep, passive holds. This class is a combination of yin based asana, gentle flowing movement, and self-myofascial release techniques designed to relieve pain, enhance recovery, and improve mobility.

An active lifestyle offers many positive health benefits such as, increased strength, endurance, and cardiovascular fitness, but it also takes its toll on the body. Repetitive movements and stress on muscles and joints can lead to overuse injury, chronic pain, and decreased mobility. Similar effects, particularly tightness in the hips, back, and shoulders, can be experienced by anyone who works at a desk, or spends long hours traveling in a car. This class is an opportunity for yogis of all levels to go deep, unwind, increase flexibility, and enhance recovery.

Level: Basic




Power Vinyasa Yoga uses mixed sequencing to build strength and flexibility through a vigorous flow. By linking together yoga postures through breath awareness and combining holds, intervals, core work, and balances, one will find this practice both challenging and transformative. The pace of the class can vary and each teacher tailors an intelligent sequence and playlist of uplifting music, to their own philosophy, offering diversity and creativity in each class.

All ability levels are welcome, as there will be modifications, options and specific alignment cues given throughout the class that appeal to all levels of practitioners. It is highly recommended that brand new beginner yogis partake in the beginner and /or basic level classes before joining an open-level class.

Level: Open




Vinyasa classes mindfully unite intention, breath, and movement. This class will offer a well-rounded practice that includes meditation, pranayama, sun salutations, and fluid movement between postures. All levels are welcome, as there will be modifications, specific alignment cues, and options offered throughout class. It is recommended that brand new yogis partake in beginner or basic classes before joining an open-level class.

Level: Open




Basic Yoga introduces the foundations of a vinyasa yoga (movement and breath) at a slow, mindful pace. In this class, practitioners can expect to unite movement and breath while learning the foundational concepts of a yoga practice. All levels are welcome, as there will be modifications, options and specific alignment cues given throughout the class that appeal to beginners and those refining the basics.

Level: Basic




Yin yoga is a slow paced practice that focuses on the breath while surrendering, yielding, and unraveling the connective tissues in the body through long, passive holds. Yin yoga is said to loosen energy blockages and therefore increase pranic flow through the body while aiding in better organ function, increased flexibility, and calms the nervous system. Postures are generally held for 3-5 minutes or more, stimulating the tendons, ligaments, cartilage and joints that normally are not reached in a more active style of asana practice.

Please inform instructor if you are dealing with injury. With the nature of the class, Yin Yoga may be unsafe for certain injuries.




Beginner Yoga introduces the families of asana (poses) with emphasis on alignment. This class is playful, conversational, and supportive, while allowing the practitioner to cultivate a strong connection to the mind, body, and breath. Beginner Yoga is appropriate for brand new yogis, those who have injuries, or practitioners who wish to gain a deeper understanding of alignment.


Level: Basic