Kate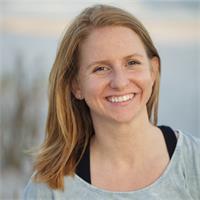 My personal study and implementation of yoga began many years ago. It started with the desire of flexibility within the physical body and has since developed into every part of my being. In 2015, I knew I wanted to begin yoga teacher training to take my practice further so I began my studies as a 200-hour Yoga Teacher at Longwave Yoga. Linking breath to movement has a profound way of calming every aspect of life. To study gentleness and to quiet the everyday chatter around us is a beautiful way to live. I have found that living yoga is not just a practice on the mat, but how I treat myself, others, and the universe off the mat. I have had the opportunity to learn from teachers such as Jules Febre, Nikki Costello, Noah Maze, Kelly Haas and Maria Garre. My classes, and personal practice, incorporate pranayama, asana, meditation, and compassion.
Kate instructs the following:
Awake & Flow


Caffeine isn't the only way to get your energy moving in the morning! Awake & Flow is designed to perk up the body and mind so you can tackle your day feeling energized and centered. This vinyasa style class will mindfully unite intention, breath and movement. Awake & Flow offers an upbeat playlist for a well-rounded practice that includes meditation, pranayama, sun salutations, and fluid movement between postures. All ability levels are welcome, as there will be modifications, options and specific alignment cues given throughout the class that appeal to all levels of practitioners. It is highly recommended that brand new beginner yogis partake in the beginner and /or basic level classes before joining an open-level class.




Yin yoga is a slow paced practice that focuses on the breath while surrendering, yielding, and unraveling the connective tissues in the body through long, passive holds. Yin yoga is said to loosen energy blockages and therefore increase pranic flow through the body while aiding in better organ function, increased flexibility, and calms the nervous system. Postures are generally held for 3-5 minutes or more, stimulating the tendons, ligaments, cartilage and joints that normally are not reached in a more active style of asana practice.

Please inform instructor if you are dealing with injury. With the nature of the class, Yin Yoga may be unsafe for certain injuries.