Britt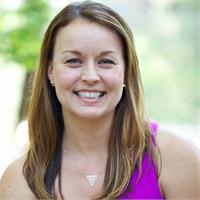 Britt came to yoga in 2001 seeking freedom from injuries as a collegiate athlete. The asana practice was a natural fit for her having spent more than a decade of her youth as a competitive gymnast. As Britt's practice evolved, so did her appreciation for her improved physical health and her newfound emotional and spiritual awareness. Britt teaches a variety of classes including vinyasa, beginner and yin yoga. She received her 200-hour certification from Pure Yoga NYC in 2010 and is currently completing her 500-hour certification with the lovely leaders of Longwave Yoga. Britt's classes are challenging yet playful and guide practitioners toward establishing a subtle strength, inside and out. She loves sharing music that inspires her and aims to lift spirits through sound. Her intention for each class is to hold the space for her students to find whatever it is they are seeking in their practice and to enlighten them with new possibilities. She has the deepest gratitude for her teachers Kay Kay Clivio, Erica Mather, Lexi Hawks and Mary Glackmeyer.
Britt instructs the following:
Take your practice to the ocean this summer in our Seaside Yoga series! Every Saturday and Sunday from 8:00- 9:00am, join us for an all-levels class on Blockade Runner Hotel's seaside lawn. This class begins Memorial Day weekend and runs through Labor Day Weekend. Practice under the summer sun, feel the salty air, and enjoy the beach horizon and lush gardens of the Blockade Runner while listening to the breaking waves on the shore. Find your seaside yoga bliss among the coastal wildlife of seabirds and beach bunnies roaming the lawn.

**Metered parking is available on the street. To access the lawn, walk through the lobby and toward the ocean. Special event rate: $16.