Marie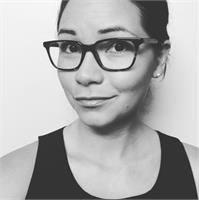 Marie has been practicing yoga for more than 11 years, but has only recently come into teaching. She believes in the expansiveness of Yoga and its ability to meet anyone exactly as they are. She has completed two 200 hour teacher trainings, studying under Kristen Cooper, Lexi Hawks, and Mary Glackmeyer here in Wilmington. Currently studying with Mary in an apprenticeship, Marie is diving deep to refine her teaching, assists, and overall presence. Marie is inspired by those who live and love authentically. She works to stoke love and peace within all beings so that they might live genuinely, truly loving themselves and the world around us as well. Marie is thrilled for the opportunity to practice, grow, and teach with the community at Longwave.
Marie instructs the following:
Beginner Yoga introduces the families of asana (poses) with emphasis on alignment. This class is playful, conversational, and supportive, while allowing the practitioner to cultivate a strong connection to the mind, body, and breath. Beginner Yoga is appropriate for brand new yogis, those who have injuries, or practitioners who wish to gain a deeper understanding of alignment.


Level: Basic




Yin & Yang Yoga is equal parts movement and stillness. The yang portion of class focuses on movement and building heat through a continuous, steady flow of postures in Sun Salutations. Once the body is warm, the yin section of class focuses holding deep stretches to surrender tight muscles and connective tissue. The combination of yin and yang yoga creates a harmonious and balanced mind-body connection leaving you relaxed and centered.


Yin postures are generally held for 3-5 minutes with the support of yoga props. Please inform instructor if you are dealing with injury. With the nature of the class, Yin Yoga may be unsafe for certain injuries.

Level: Open




Power Vinyasa Yoga uses mixed sequencing to build strength and flexibility through a vigorous flow. By linking together yoga postures through breath awareness and combining holds, intervals, core work, and balances, one will find this practice both challenging and transformative. The pace of the class can vary and each teacher tailors an intelligent sequence and playlist of uplifting music, to their own philosophy, offering diversity and creativity in each class.

All ability levels are welcome, as there will be modifications, options and specific alignment cues given throughout the class that appeal to all levels of practitioners. It is highly recommended that brand new beginner yogis partake in the beginner and /or basic level classes before joining an open-level class.

Level: Open




Basic yoga introduces the basic elements of a vinyasa class by offering poses that are connected through attention to breathing, alignment and mindfulness. We will focus on techniques to help you gain both flexibility and strength, while moving at a slower pace. Meditation and relaxation techniques will also be included. Basic yoga provides students with foundational concepts within a yoga practice and plenty of time to explore postures and ask questions. Basic yoga is good for stress relief and overall well-being. All ability levels are welcome, as there will be modifications, options and specific alignment cues given throughout the class that appeal to beginners and those refining the basics.