Addie Jo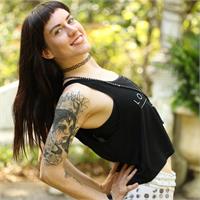 When stress began to shadow my sense of self-love and doubt became an obstacle, I knew I needed a mental and spiritual transformation. Serendipitously, a friend invited me to attend a Core Power Class. I was new to yoga, but I knew the class would help with my fitness goals. What I did not know, was within one class my life would be changed. I not only learned about myself and my body, but I found a lifelong calling and an answer to the transformation I was searching for. To this day, I still view yoga just as I did after that first class: a gift. Yoga found me, and when it did, I embraced every step of the journey. The next step of my journey became giving the gift I had received to others.
Through Tamal Dodge's teacher training I received my 200 hour certification. In my classes, you will find yourself moving through sequences inspired by Sadie Nardini's Core Strength Vinyasa. These sequences activate and utilize core muscles with each inhale and exhale. Combined with a variety of yoga postures (asana), my students enhance their strength, flexibility, and breathing. One of my greatest pleasures in teaching is watching my students discover how once difficult postures become accessible through dedication to their practice. I am honored to be there with them through every stage.
To me, yoga is infinite. Yoga is honest. Yoga is love. Yoga is where you find who you are. It is a journey of so much more.
Addie Jo instructs the following:
Core Flow Yoga is a fusion of Vinyasa yoga and Interval Strength Training to cultivate deep core strength and increase overall stamina and endurance. It will help one build a deep-rooted core connection, accessing their innermost power, and stabilize muscles needed for a strong yoga practice. This is a fun and powerful class that is equal parts core work and flow, leaving one feeling balanced in body and mind.


All ability levels are welcome, as there will be modifications, options and specific alignment cues given throughout the class that appeal to all levels of practitioners. It is highly recommended that brand new yogis partake in the beginner and/ or basic level classes before joining an open-level class.

Level: Open




Prana Pump is a fun and energetic combination of yoga asana and HIIT (high intensity interval training). With the help of an upbeat playlist and use of props such as sandbags, weights, and bolsters, this class is built to make you sweat, build strength, and rev up your heart-rate. Prana Pump will increase vital life force energy while you find empowerment to meet your edge. You'll be amazed at what your body can do!

This class is open to all levels.




Yin yoga is a slow paced practice that focuses on the breath while surrendering, yielding, and unraveling the connective tissues in the body through long, passive holds. Yin yoga is said to loosen energy blockages and therefore increase pranic flow through the body while aiding in better organ function, increased flexibility, and calms the nervous system. Postures are generally held for 3-5 minutes or more, stimulating the tendons, ligaments, cartilage and joints that normally are not reached in a more active style of asana practice.

Please inform instructor if you are dealing with injury. With the nature of the class, Yin Yoga may be unsafe for certain injuries.