Addie Jo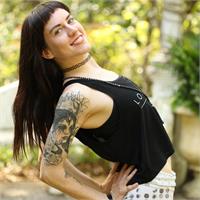 When I think of myself as a yoga teacher, I think of how I am just like my students. Every time I teach, my students make me a better teacher by showing me the way. They are my teachers. I try my best to make sure that there is no barrier between teacher and student because we are all experiencing the yoga class together. I find it is my responsibility to provide my students with a safe space where they can respect themselves and see their infinite worth. I want to make sure that I am there for them when challenges arise or questions are asked. I want to be raw and real. I am not the kind of teacher who is poetic or uses fancy language, but I like to think that when a student leaves my class they have made a new friend. Prana Pump is a style of yoga I created and trademarked. It is yoga, HIIT, and weight training all in one class. If you just got a rush of intimidation and said "I can't do that" in your head, you can. It's fun, upbeat, and probably the least serious class you will ever take. We work hard, but we laugh and shake our booty's doing it. Afterwards, we feel strong and confident. There is no other class like it. I am also a Yin Yoga teacher. Who'd-a thought someone who invented a crazy class like Prana Pump would also teach Yin Yoga?! In Yin, we don't leave the floor. We stress the connective tissues in the body to build strength in the ligaments. It's pure nourishment and I feel so honored that I am able to teach it. Do yourself a favor and give yourself Yin after a Prana Pump class. You'll thank me later. I hope to see you soon in my classes. If not, I hope you find your yoga journey to be fulfilling in so many lovely ways.
Addie Jo instructs the following:
Prana Pump is a fun and energetic combination of yoga asana and HIIT (high intensity interval training). With the help of an upbeat playlist and use of props such as sandbags, weights, and bolsters, this class is built to make you sweat, build strength, and rev up your heart-rate. Prana Pump will increase vital life force energy while you find empowerment to meet your edge. You'll be amazed at what your body can do!

This class is open to all levels.




Deep Stretch & Release is a yin based practice that allows the active yogi to find balance in the body and mind. Yin yoga is a slow paced, breath centered practice that targets the connective tissues in the body through long, deep, passive holds. This class is a combination of yin based asana, gentle flowing movement, and self-myofascial release techniques designed to relieve pain, enhance recovery, and improve mobility.

An active lifestyle offers many positive health benefits such as, increased strength, endurance, and cardiovascular fitness, but it also takes its toll on the body. Repetitive movements and stress on muscles and joints can lead to overuse injury, chronic pain, and decreased mobility. Similar effects, particularly tightness in the hips, back, and shoulders, can be experienced by anyone who works at a desk, or spends long hours traveling in a car. This class is an opportunity for yogis of all levels to go deep, unwind, increase flexibility, and enhance recovery.

Level: Basic




Yin yoga is a slow paced practice that focuses on the breath while surrendering, yielding, and unraveling the connective tissues in the body through long, passive holds. Yin yoga is said to loosen energy blockages and therefore increase pranic flow through the body while aiding in better organ function, increased flexibility, and calms the nervous system. Postures are generally held for 3-5 minutes or more, stimulating the tendons, ligaments, cartilage and joints that normally are not reached in a more active style of asana practice.

Please inform instructor if you are dealing with injury. With the nature of the class, Yin Yoga may be unsafe for certain injuries.