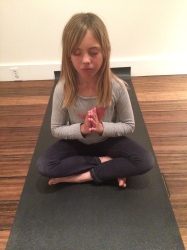 There aren't a lot of regrets associated with yoga. Even crashing face first into your mat while attempting crow can be a learning experience, not to mention a reason to laugh. There are, however, two things we hear regularly from our yogis.
"I wish I'd started yoga sooner!"
and
"If only my family practiced yoga, too."
That's precisely why we've made it a priority to offer the best kids yoga classes in Wilmington, NC. Not only that, but Longwave Yoga's Kids Yoga classes are held twice a week in our second studio space, at the same time as an adult class. This allows kids and their parents to practice at the same time, making yoga as a family easier than ever. You're welcome.
The Benefits of Yoga for Kids
At Longwave Yoga, we believe everyone deserves the benefits of yoga, regardless of their age, and that includes children. But don't take our word for it—the
benefits of yoga for children
are well documented. Yoga classes specially designed for children helps them explore and learn in a safe and playful environment, teaches them to be comfortable in and aware of their bodies, helps them calm themselves naturally, improves focus, and provides a healthy avenue of self-care. Basically all the same things it does for adults, but on a different scale.
The Mind-Body Connection
Another major benefit of children's yoga classes is a
stronger mind-body connection
. Today's world moves faster than ever, and keeping up can be difficult—especially for kids. While we may remember childhood as a happy time when we were free from stress and worry, today's children are experiencing unprecedented pressures, whether in school, from sports, or during lessons. Yoga helps them
deal with these pressures
in a safe, healthy way by giving them an opportunity to unplug and tune in to their own thoughts and feelings. It teaches them to move with mindfulness and approach the world with compassion, and allows them to play in a judgment-free zone.
Kids Yoga Classes in Wilmington, NC
At Longwave Yoga, Kids Yoga classes are held Wednesday at 4:30PM, which coincides with our adult core flow yoga class, so you can fit your own practice in at the same time. Our Kids Yoga classes are appropriate for ages five to nine and last 1 hour. During these classes, children will laugh, stretch, breath, and play. We incorporate classic yoga poses, songs, and games to help build strength, flexibility, and confidence. A playful class, it encourages self-expression and teaches children calming techniques.
Make yoga a family affair by bringing your children to our Kids Yoga classes, and then attending your own class while they're having fun next door. It's the best way to play, learn, and grow together, and Longwave Yoga is proud to offer this opportunity to our community.