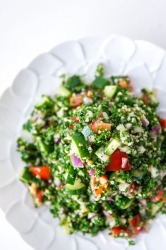 Tabouleh with a twist!
Revised from Food.com
As we celebrate community and the beautiful diversity that each of us brings to the Longwave Kula (and life!), we can't help but to be reminded of one of our favorite fusion dishes! Invite the crew over (recipes serves 6-8) and try this Middle Eastern favorite with a Mexican twist! This salad is sure to give you and your friends something to talk about! Satsang anyone?
Ingredients:
1 cup Bulgar wheat
2 cups boiling water
1 cucumber, peeled, seeded and diced
1 cup fresh cilantro, chopped
1 cup tomatoes, chopped
1 cup diced onions
1 jalapeno pepper, seeded and diced fine
1/2 tablespoon chili powder
1/2 tablespoon cumin
1 teaspoon salt
2 limes juice
1/4 cup olive oil
Instructions:
1. Place the bulgur in a bowl and pour in boiling water.
2. Cover and allow to sit for 1hour.
3. Meanwhile, prepare the other items.
4. Drain the unabsorbed water and add all the remaining items to the bulgur wheat.
5. Mix and taste to adjust the seasonings.
6. Chill and serve.